Introducing e+: the naturally-caffeinated energy shot that gets–and keeps–you going!
Let's face it; in our fast-paced, not-enough-hours-in-the-day world, it's easy to run down personal energy reserves. e+ is a flavorful energy-boost for everyone, formulated to help you feel refreshed and energized. And, e+ fires up your performance without the artificial colors, sweeteners or flavors found in many other energy drinks.
Pocket-sized e+ shots are convenient, great tasting, and perfect for that quick boost of energy when you need it most. The convenient 2-ounce bottle of e+ provides extra protection against fatigue, whether it's before a workout or to help you meet a work deadline, thanks to the adaptogenic botanicals in each bottle.
What's more, the ingredients of e+ were specifically selected to help your cells use energy more efficiently. Here's just a taste of what e+ has in store for you:
Quick energy boost that lasts for hours
Kick-starts your workouts
Improves focus and physical performance
Helps you stay alert and think clearly
Safe, effective and natural
We gave a few Associates the chance to try e+ in advance and here's what they experienced:
"I am a morning coffee drinker, however I went without this morning and tried e+ before my morning workout. Oh my gosh! I can honestly say that this was the best workout I can remember having in forever! No 'speedy' feeling; just incredible, sustained energy. Mentally, I feel SUPER SHARP! It's been over three hours since I took it and I still feel soooo energized! Great formulation—Well Done, Isagenix! Can't wait to get more and SHARE THE SHOT!" –Dr. Glenn N., chiropractor
"Wow! The new e+ is AMAZING. The energy is long-lasting and I didn't feel any jitters or speedy feelings, just an even flow of good energy. When I tried it, I was tired from a heavy schedule and was about to meet friends to see a great new movie. I didn't want to fall asleep in the movie, so I decided to try the new e+. It worked wonderfully. I was bright and alert for the whole afternoon and evening, and when I got home in the late evening, I went to sleep easily. Thank you, again, Isagenix, for making my life so EASY!" –Udana P.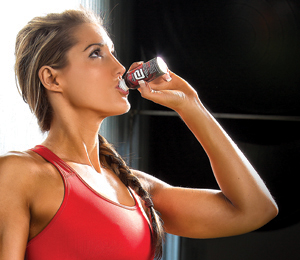 Energize your mind and get the healthy edge over fatigue. e+ gives you the boost you need to help get–and keep–you going. Add the new e+ energy shot to your Autoship order today, or try our new e+ Starter Pak featuring 102 bottles of e+ and a Product Introduction Bonus (PIB) of $25, qualifying you for our Double PIB promotion!
For e+ Fast Facts right at your fingertips, check out this quick flyer.